Fashion
Is there anything Maya Jama cannot accomplish?
Is there anything she cannot accomplish? Clearly not!
TV and Radio station presenter Maya Jama recently landed her own collaboration with shoe brand Kurt Geiger only after just a couple weeks of releasing her 2nd line in partnership with Pretty little thing.
This collaboration is for their Spring/summer collection, showcasing classy heels/bags/statement trainers and sparkling accessories. These pieces were handpicked from Maya Jama so its great to see how much creative control she was given.
In the video campaign Maya is seen wearing a stunning green embellished dress super chic and super classy! – Feminine, Fashionable and glamorous is the tagline for this collection which is a great way to step into the spring season (well it's not exactly spring yet clearly, but you get the point)
My favourite piece from the collection has to be the Kensington belt bag, although you would never seen me spend £129 on a bag unfortunately, this bag is super cute with the mix on shades with the mini gold chain – have to love!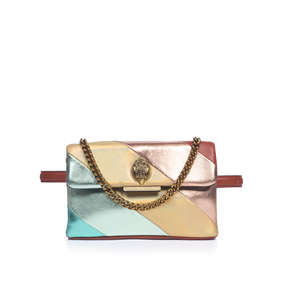 Now unless you have been living under a rock you would know that the queen herself has released a second line with Pretty Little Thing. Quite different from her 1st line, however still sticking to her slick sense of fashion. A mix of comfy and cute however it really is the season of matching co-ord. The line includes matching crop and joggers, jumpsuits dresses, skirts and jackets with sizes ranging from 4-26 once again.
What I love more than anything is the cute little thick lady that has been represented to the fullest on the majority of her items from the range. Other than Maya herself and a few other beautiful ladies, the plus size women has been portrayed in the most beautiful way in this campaign. – Keep securing the bag Maya and representing us all!!!