Home
Amor Magazine Meets Lost Girl
Lost Girl, is the type of artist that we all want but never knew we needed in our life. The singer from  London started 2020 off with a bang, giving us the new age Garage track I Won't Give Up A song influenced by listening to Garage tunes in the car with her Mum which has already racked up over 400k views on YouTube. Amor Magazine caught up with Lost Girl to find out more about what 2020 has in store for her.
Describe Lost Girl in Three words
Creative, Thoughtful and Fair.
We love your debut single 'I Won't Give Up' it's very reminiscent of Old Skool Garage, is this the type of sound we can expect to hear from Lost Girl?  
My favourite sound is garage but I often try to mix a few genres together, I do have a few songs lined up with that kind of old skool vibe. Later on in my career I would like to explore all genres like reggae, R&B, pop.
How did you get your start in music? 
I started posting consistent remixes and covers on instagram for about a year. My video caught the attention of Tinie Tempah and he began managing me with the ImHotep team. I worked really hard, recording and writing music for about a year and then I got signed.
What challenges have you faced so far in the music industry and how have you overcome them? 
Maybe coming out as a new artist in such a saturated industry is quite hard. Establishing myself, as a young female artist and letting people know that I'm a serious candidate is always going to be difficult but I think consistency and constant innovation is important.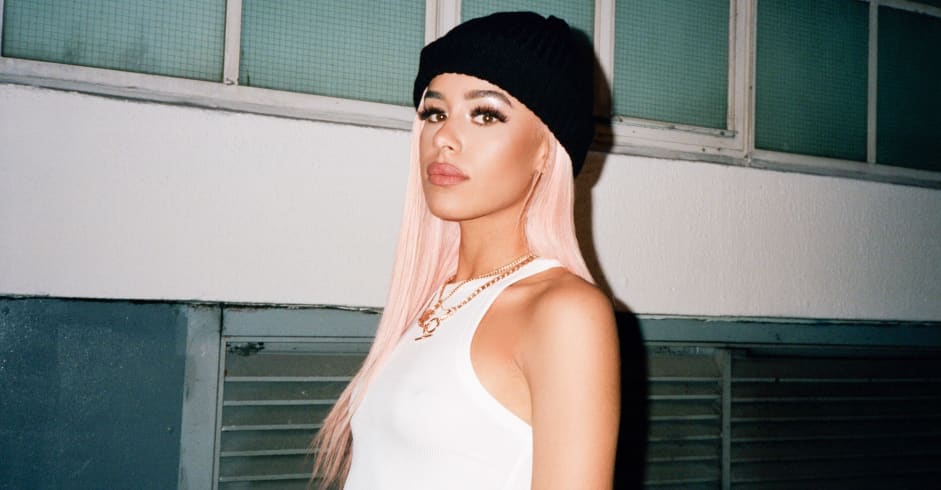 What have been the highlights of your career so far? 
The highlight of my career would have to be the first week of my first ever release. I had so many interviews and meetings, it was hectic. It was so crazy to hear my song being played out on the radio. I got to see everyone's reactions to my song, a moment I had been waiting my whole life for. It was so surreal to me.
How important is representation to you in the music industry? 
It's very important to me because I feel like it is harder coming up as a female in this game because it seems as though men release more songs and are signed to labels more frequently. I also think as a woman of colour, people tend to compare female artists instead of elevating them all. I would like to show I am a diverse female artist, but I want others to win too.
It has been a hard couple of months, do you have any thoughts on what is currently going on in the world?  
It's been a crazy few months but to me a blessing in disguise. I've never had such reflection time. I've been able to write from home, spend more time with family and improve my production skills. I feel as though the outside world was becoming too hectic and we all needed a moment to breathe and a moment is exactly what I've received.

What empowers you as a woman? 
Seeing other women win. I love seeing people happy doing what they enjoy and prospering. I feel like we can build each other and grow together as females. Collaborate, elevate and watch each other succeed. Also just finding something to be passionate about, it brings me great pleasure to see women in big powerful roles and continuing to take the world by storm.
Who is currently on your playlist? 
From the US, I love Giveon at the moment, as well as Kaleem Taylor and Ryan Trey. All slow RnB vibes as I'm really digging this kind of music at the moment. Brent Faiyaz and Kaash Paige are super dope too. From the UK, I'm loving M1llionz, Ivorian Doll, Shaybo, Miraa May, and many others.
What inspires you when creating music? 
My past experiences and just watching other people's hardships help me to write from mine and other's perspectives too. The world, making a change and being heard is very important to me. I need to leave food for thought and plant some seeds with the music I make, I want it be relatable yet interpretable and mouldable. Hopefully becoming timeless.
Is there an album in the works? If so can you tell us a bit about it? 
Definitely! I make a lot of music and I can't wait to release my album in the near future. I'm excited to get a body of work out so that people can really connect with my personality and artistry. I have a lot to say and a unique way of saying it so yes I'm very excited to have more content out.
What legacy would you like to leave in the music industry? 
I want to be remembered. I hope my music is timeless and will still feel the same in years to come. I want people to know you can be your authentic self and people will relate. You're not alone and you can really be whoever you want to be in this life, as long as you believe. I am an example of "If you want something, you better go A and get it" because that's exactly what I did and want others to know it's possible to live your dream.
You can find more of Lost Girl on Instagram and Twitter
Words: @gyallikeannie